By Paris Permenter and John Bigley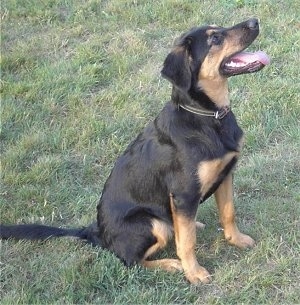 What's your dog's breed? With approximately 50 percent of the U.S. dog population composed of mixed breeds, it's a question many dog lovers hear. In the past, guesses at the breed mix were based on appearance and temperament, but now DNA testing can unlock the mystery of a dog's genetic heritage.
For less than $100, you can purchase the most common type of DNA tests that use simple cheek-swabs to obtain a sample of your dog's DNA. Laboratory analysis compares the dog's DNA sample to the company's database for matching. Presently, the Wisdom Panel Insights test has the largest database for cheek-swab tests and can compare a dog's DNA mix against 185 different breed profiles. The Wisdom Panel Professional, a test available through veterinarians and one that requires a blood sample, compares results against 225 separate breeds.
---
6 Responses to "DNA Testing Your Dog"
Cleo

says:

Where can I buy dog dna test, my dog was stolen and I found her but they're telling me she not mine. She has all the identical marks colour and scars. I still have the mother dog

Marinus

says:

To how this may concern
My name is Marinus Basson, I'm part of Cape Town's management team for the Pit bull federation South Africa. I would like to give you a chance to extend your market, by being a sponsor at our dog shows. For more information please email me (rinusb90@gail.com) our check out our Facebook page PBFSA Cape Town. Al type of sponsors is welcome, we need stuff to give as prizes and water Buckets on the premises for the dogs.

julie

says:

Our club does not offer sponsorship – sorry. We are all volunteers ourselves.

Julie

AMPHION

says:

I WOULD LIKE TO DO DNA on few dog how do i go to work on this ?

julie

says:

There is a local company that offers this called Mutmix – perhaps try them.
Julie